Materials Handling
Barloworld Handling is one of the largest dealers of used forklifts in the UK offering unrivalled choice and value for any application or budget. The vast majority of forklift trucks we sell are quality Hyster trucks and come from our own rental fleets giving you real peace of mind that they have been expertly maintained by our own technicians from new.
Our
Que and QUE+ used trucks
are reburbished to the highest standards possible making them an excellent investment.
This pneumatic hydraulic straddle stacker is suitable to work in a Zone 1 area. The lift is powered by a pneumatic hydraulic pump. The stacker has a stainless back box and stainless clad forks.
Stacker Options
Manual hydraulic / battery or pneumatic hydraulic
Different lift heights, fixed mast or telescopic
Straddle or wrap-over leg configurations
Choice of steel or stainless construction
Choice of stainless finish; glass bead blasted or electro polished
The new RX 70 series was designed to lower costs for energy and maintenance.
The compact and user friendly RX 70 is available with a diesel and a gas engine and with load capacities of 1.6/1.8 and 2.0 tonnes.
New RX 70 1,6t - 2t with Blue-Q
.The intralogistics company and lift truck manufacturer Still presents new RX 70 gas/diesel trucks with lift capacities from 1.6 to 2.0 tonnes. They are suitable for demanding intralogistics tasks in narrow spaces and tough conditions operating indoors and outdoors e.g. in construction material retail, warehouses and forwarders, because they are the most compact trucks in their class.
Read more: STILL Presents the First Gas/Diesel Driven RX 70 Trucks with the Energy Saving Feature Blue-Q
Rim Grip Drum Handler is the drum handler to choose for handling drums packed tightly together. Steel jaws gripthe rim (chimb) of the drum, allowing the drums to be picked up or set down without spaces between them. Ideal for stuffing and destuffing containers and suitable for use on rough terrain. May be used with 120 or 210 litre drums of steel, 'L' ring or 'XL' ring plastic types.
This model of rim grip drum handler is available with a mild steel frame and a zinc plated head as standard, which is suitable for most applications.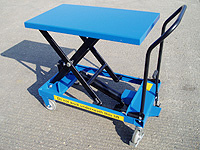 Materials Handling
| | | |
| --- | --- | --- |
| | Box Trucks | Mesh, Steel or Plywood four sided trolleys / trucks in many configurations / sizes |
| | Budget Choice Trucks | Cost effective Sack trucks, Rough terrain trucks, Folding trucks and Stairclimbers. |
| | Cash & Carry Trolleys | Nestable, single and multi level cash and carry barrows / trolleys |
| | Castors | Nylon, Rubber, Cast Iron and Polyurethane, Swivel, Braked and Fixed Castors |
| | Distribution Trolleys | Stack and Nest Cash and Carry Trolleys, Single, Double and Multi Container Distribution / Order Picking Trolleys |
| | Drum Handling | Steel and Plastic Drum Handling Trucks, Positioners, Stands, Spillage retainers, pallets and Safety Containers |
| | Ergo Work Positioners | Battery or Manual Ergonomic Tilting and Lifting Work Positioners |
| | Expanding Conveyor | Flexible, multi purpose expanding conveyors with telescopic legs and skatewheels or rollers |
| | Folding Trolleys | Collapsible / folding trolleys, mini movers in steel or aluminium, up to 400kg capacity. |
| | Folding Trucks | Economy and Industrial Fold Flat Aluminium and Steel Sack Trucks |
| | Folding Workshop Cranes | Mobile Folding Workshop Cranes with Hooks or Safety Catches up to 2,000kg capacity |
| | Gas Cylinder Storage | Bulk and Single Gas Cylinder Storage and Distribution Racks / Pallets |
| | Hand Carts | Hand Carts and Groundsman Carts with tubular steel frames, water resistant plywood or mesh platforms / shelves, or polyethylene containers. |
| | Hand Drawn Trucks | Light, Medium and Heavy duty four wheeled platform trolleys and balanced trucks |
| | Hand Pallet Trucks | Std Pallet Trucks and High Lift/Powered in stainless, galvanised and standard finish for Distribution and Warehouse use |
| | Hand Winch Stackers | Portable Winch Stackers and accessories up to 500kg capacity |
| | Heavy Duty Trolleys | Up to 1000kg capacity Platform and Shelf / Tray Trolleys |
| | High Lift Pallet Trucks | Battery and Manual High Lift Pallet Trucks |
| | Industrial Trolleys | Industrial Trolleys General purpose trucks, Two tier budget workshop trolleys, Turntable platform truck, Three tier budget workshop trolleys, Three tier budget workshop trolley |
| | Lifting Gear | Chain Hoists, Beam and Plate Clamps, Beam Trolleys, Shackles, Eyebolts and Chain Slings |
| | Lifting Slings | Polyester Webbing Slings and Round slings for Safe Lifting of heavy / awkward goods |
| | Maintenance Equipment | Machinery Moving Skates and Hydraulic, Bottle, Machine Lifting Jacks |
| | Manual / Powered Lifting | Manual or powered lifting / handling equipment with loads of options for the lifting rolls, drums, boxes, even white goods. |
| | Mechanical Stackers | Portable Loaders and Winch Stackers up to 250kg Capacity |
| | Mobile Scissor Tables | Scissor Tables and Lifting tables on Trolleys for work positioning and Manual Handling |
| | Modular Trolleys | Platform only or two, three, four sided mesh or solid variations you choose |
| | Pallet Rotators | Pallet Rotators, free turning pal disc pallet turntable ramped edged for easy access ideal for use in space confined areas |
| | Plastic Base Trolleys | Reinforced Plastic based Trolleys with ends, shelves and various options |
| | Platform Trolleys | Folding, Extending and Modular Steel, Aluminium, Timber Platform Trolleys with many options |
| | Powered Pallet Trucks | Walk behind powered pallet trucks up to 3000kg |
| | Powered Stackers | Power Driven and Battery operated Lift Stacker, Counterbalanced compact Trucks |
| | Roll Containers | Demountable, Nesting and Security Mesh Mobile Wire Roll Containers with 1-4 sides and shelves |
| | Roller Conveyors | Gravity controlled Roller Conveyor Systems and accessories |
| | Sack Trucks | Steel and Aluminium Sack Trucks / Stairclimber Trucks of all types for use in any kind of materials handling application |
| | Scissor Lifts | Powered Single and Double Vertical Scissor Lifting and Tilting Tables all CE marked |
| | Shelf Trolleys | Single to Five Shelf Open and Enclosed storage / transport Shelving / Tray Trolleys and Carts |
| | Special Purpose Trucks | Rough Terrain, 3 in 1 Multi use trucks, Chair and Appliance Sack Trucks |
| | Stackers | Battery powered stackers, Manual stackers, power driven and lift or manual push and lift, walk behind stackers 500kg - 1200kg capacities |
| | Stairclimber Trucks | Powered and Manual Stairclimber Trucks and Vehicle Loaders |
| | Table Top Carts | Standard mobile Trolleys with work surface and shelves below |
| | Tray Trolleys | Canteen, Storage, Order Picking and Post Tray Trolleys |
| | Warehouse & Retail Trolleys | Trolleys and long load barrows for transporting of panels, boards, and general heavy items around your warehouse or retail outlet |
| | Weighing Pallet Trucks | Pallet Trucks with built in Weighing Scales |
| | Wheels & Rollers | Solid / Cushion tyre wheels and pallet truck rollers with and without bearings |
| | Work Positioners | Tilting, Adjustable Positioners for Pallets and bulky items |
| | Workstands & Load Movers | Steel tilting and adjustable height mobile work stands / positioners, Hydraulic load shifters for bulky / heavy item moving |
---
Back to top of catalogue
Back a page
---
---

The heart of the Storage Media Project is six multi-level Pick Towers including a new Tower for the Fine Wine Room.
The pick towers are all configured as three-level structures, with the Ground Level being Carton Flow or flow rack for case picking. For this installation Beaver introduced new full-width roller track carton flow, which allows for complete flexibility and adjustability and fits directly over the front and back beams of the racking structure. The Mississippi ABC uses flowrack accommodating as many as 19 cartons deep.