Energy Management
The new PF330/220 portable range of clamp-on flow meters from Micronics.
Read more: Simple accurate flow measurement from outside the pipe!
Energy costs. In industry it is a subject that has never commanded so much attention or commitment to increasing efficiencies and reducing consumption.
Adrian Langford is General Manager of the Process Burner Division at Lanemark International who have been at the forefront of process gas burner design and installation since the early 1980's. He believes there are a number of steps that could be considered and taken – either via converting existing 'point of use' systems or replacing centralised facilities – which can help to mitigate against the new energy cost environment in which, he says, UK manufacturing must now operate.
Want to improve industrial processes, energy efficiency and end-product quality with accurate, stable and reliable measurements combined with excellent services?
At MTEC 2010 Vaisala will be launching their new HMP110 & HMP60 Humidity, Temperature OEM Modules, in addition to showcasing their range of industrial transmitters which monitor relative humidity, dewpoint, moisture in oil, carbon dioxide, oxygen and barometric pressure in extreme conditions.
Even on a rough sea, a crane has to be able to lower loads of up to 120 tons into the water, accurate to the tenth of a metre
She was ready earlier this year: the Seven Atlantic, an ultra modern support vessel for divers in the North Sea. Responsible for the electrical wiring is Croon-Bakker Sliedrecht, who during the test phase could rely on the services of Energyst CAT ® Rental Power.
The recent delivery of the Seven Atlantic Subsea 7 to its owner meant the next step in a truly epic project for IHC Merwede Shipyard in Hardinxveld-Giessendam. In a relatively short time the company has produced two so-called pipe laying vessels – the Seven Oceans and the Seven Seas - and has completed project number three with the transfer of the Seven Atlantic. They are currently already working on the fourth ship, which as of yet remains nameless. Starting this year, the ships will perform their duties in the deep oil fields in the North Sea.
At the beginning of September 2008 we were approached by two companies regarding the rental of an O&G unit for a small platform in the North Sea called Varg A. The generator was to run the Fire Pump onboard for any emergency situations, so it is basically a standby unit. We offered a budget rate for renting one of our new Oil & Gas units.
After several discussions and clarifications Teekay Norway took over the project at the beginning of 2009, and the ball really started rolling. We not only had to place our Oil & Gas unit on the platform, it also needed some modifications. Together with our Technical Manager, Kjell Olsen Øen, Teekay decided that they needed some very special arrangements onboard the platform. This meant that we had to rebuild certain parts of the unit, and also install an extra long piping construction for the air intake and also for removal of the exhaust gases. See pictures. The container also needed overpressure, because of the danger of gas.
Vehicles can be rented, so can tents and even Santa Claus outfits. It's probably less well known that when air-conditioning or power-supply units are required, they too can be hired rather than purchased outright. One of Europe's biggest providers in this area is Energyst B.V., with their head office in Breda, the Netherlands.
Energyst B.V. always have the right solution available when it comes to equipment for generating electricity, refrigeration, air conditioning, or heating and ventilation. Caterpillar electricity generators start at 20 kVA and go right up to complete installations for power stations. Besides electrical generating sets, Energyst also supplies uninterruptible power supplies (UPS), transformers, load banks, switch over panels, distribution panels, and cables.
In line with a further expansion of its growth in the International Power Projects business, Energyst B.V. has establised in close cooperation with Finning International in Chili as stepping stone for South America a new business foothold.
As of late last year a new subsidiary Energyst Rental Solutions Chili Ltda has been incorporated and is fully operational. Mr.Jose Rodgriguez Monje former senior manager of Finning with extensive experience in the rental business is the General Manager of Energyst Rental Solutions Chili Ltda.
Read more: Further expansion, Energyst established Energyst Rental Solutions Chili Ltd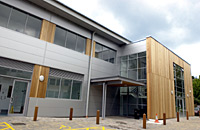 3 West North (3WN) is one of the newest buildings on the campus, built in 2005 to house a number of research laboratories as part of the Department of Physics. It includes drawing towers for making photonic crystal fibres, a 200-seater lecture theatre and two general teaching classrooms for 100 and 30 people, as well as various labs with equipment including lasers, lathes and furnaces. This vital research, however, is energy intensive, and the building has an annual electricity bill of £70,000.
Within the Department of Estates, significant investment has been made in improving the energy monitoring of buildings such as this, and through the Our Big Energy Challenge project, a departmental energy champion has been trained and now acts as a point of contact for the Energy & Environment team.
Read more: A combination of technology, information and people make big savings!
Thermal Energy International Inc., which recently acquired the Bristol based steam trap manufacturer GEM Ltd, is launching its highly acclaimed FLU-ACE technology to the UK and European market. Greatly improving the fuel efficiency of boiler operations, FLU-ACE provides a significant return on investment, and reduces environmental emissions.
FLU-ACE effectively converts an Industrial boiler into a condensing boiler and, in so doing, effectively recovers up to 90% of the heat normally lost. This is possible because FLU-ACE
With the continuing increase in energy costs and with many fixed price deals currently coming to an end there has never been a greater emphasis on reducing energy bills in the FM sector. Facilities managers and facilities management (FM) companies can now cut costs and increase efficiency by making use of the new and comprehensive support package being offered by ERIKS Electro-Mechanical Services, part of ERIKS UK, a corporate member of the British Institute of Facilities Management.
Specifically designed to complement facilities management operations, the package draws on the enormous product portfolio, resources and expertise of ERIKS to go far beyond the simple repair services offered by other support companies.
Read more: ERIKS HELPS FACILITIES MANAGERS REDUCE ENERGY BILLS